TASC Management's information-centric cyber security services comprise of three (3) integrated elements that help and enable organizations to systematically and comprehensively secure their information. Those elements include:
≡   Governance, Risk & Compliance (GRC)
≡   Information Security
≡   Audits & Assessments
TASC Management understands that a culture adjustment is necessary for agencies and businesses to truly value the confidentiality, integrity, and accessibility of their information. We work closely with our clients to better understand this value, integrate this understanding into their corporate culture, and ultimately protect the IT infrastructure and the data that lives inside.
With our three-pronged approach to information security, we're able to assess your current security level, identify deficiencies, and certify that your IT infrastructure and data are secure according to federal regulations and professional standards.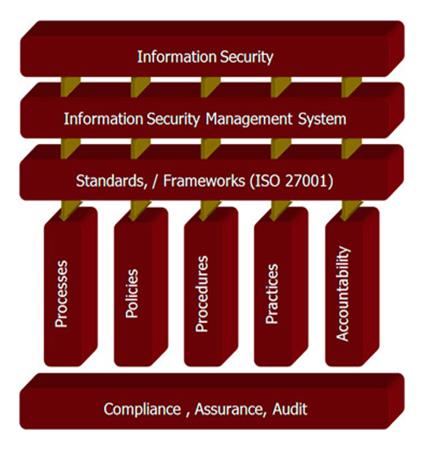 TASC Management's Information Security Management & Governance Framework

™
---
 our own proven framework is about implementing and maturing organizational controls related to its People & Processes, and then supported by Technology. Our innovative approach enables organizations to clearly define their IT security policy, procedures, controls and compliance requirements and achieve their security governance objectives via the implementation of widely recognized best practices.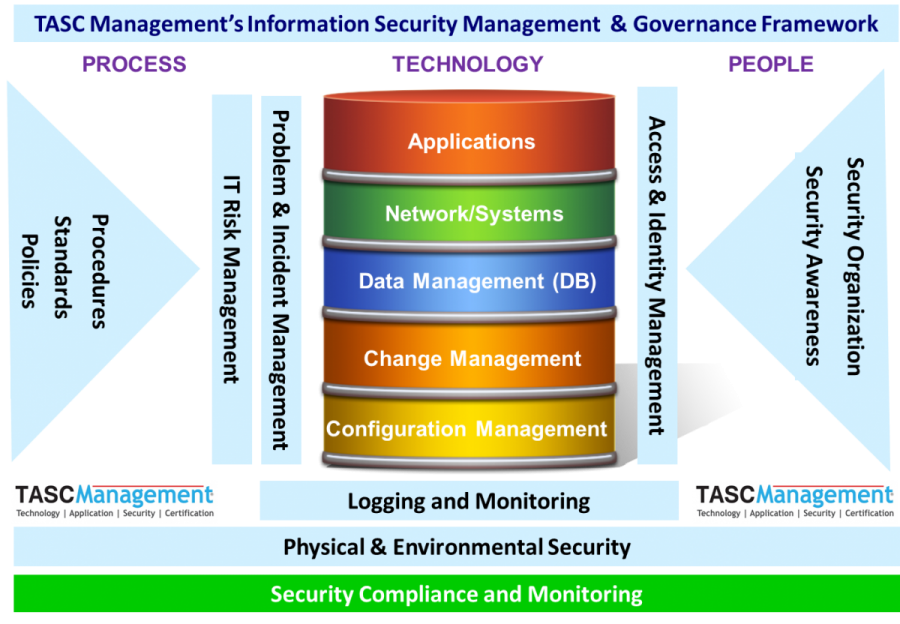 ≡   ISMS Implementation
≡   ISO-27001 Certifications
≡   IT Governance Framework Development
≡   Policy, Procedure & Standards Development
≡   IT Security Assessments
≡   Risk Control Assessments
≡   Security Project Management
≡   Security Logging & Monitoring
≡   Access Control Testing
≡   Incident Response Management
≡   Physical Security Assessment
≡   Network Security
≡   Business Continuity Planning (BCP)
≡   Application Testing
≡   COBIT Assessment & Implementation
≡   IT Security Trainings
≡   Compliance Tool Implementation
≡   eGRC Automation
Our Expert Security Team
All our lead consultants retain highly competitive business and technical skills and are experts in their domains proven by their competitive industry certifications, including:
   ≡   Certified in the Governance of Enterprise IT (CGEIT)         ≡   Certified Information Security Manager (CISM)         ≡   Certified Ethical Hacker (CEH) 
   ≡   Certified Information Systems Auditor (CISA)         ≡   Computer Hacking Forensic Investigator (CHFI)         ≡   Project Management Professional (PMP)