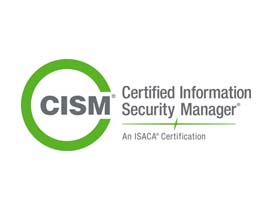 Certified Information Security Manager (CISM)
The components of the training program include:
• Instructor-led
• 5 Days (40 Hours)
Overview:
Organizations increasingly reliant on complex information systems to conduct their business must ensure information security officers have the expertise to adequately manage growing IT threats and risks. The CISM certification helps address this issue by ensuring recipients have the breadth and depth of knowledge to plan, implement and maintain a security program that will adequately protect the organization at an acceptable cost.
Until recently, effective security management has been low on the list of priorities of most organizations but the advent of increasingly costly and troublesome security compromises coupled with a host of new regulations has started to reverse the situation. This has led to recognition that security management must be an integral part of overall organizational governance and can't be merely an afterthought.
Traditionally, security has been treated as a set of specialties with little consideration given to strategy or management. Operational processes have generally evolved organically over time with little integration or thought of security. To the extent these processes have been designed, the focus has been to expedite the process, not ensure it's security, robustness or manageability. Ad hoc, reactionary tactical solutions to security issues have been the norm. With growing awareness that these solutions of the past are inadequate to deal with evolving and ever more sophisticated threats, ISACA has paved the way toward improving security management by initiating the CISM program. Developed specifically for experienced information security managers and those who have information security management responsibilities, this course provides intense comprehensive training focused on competently preparing you to successfully complete the CISM exam. Thoroughly test your knowledge as you learn to apply it to real-world scenarios.